December 23rd, 1999. I was a first year University student home for Christmas break. Broke as hell, I did what many students did when stuck at home for a month – went back to work at my high school job, trimming produce at a local grocery store.
I had an early afternoon shift that day, but it was only registering in the far reaches of my mind. For this was a day that finally arrived after weeks of anticipation. This was the day that the much heralded, much delayed, release of Gran Turismo 2 was to occur.
I arrived at Electronics Boutique the moment it opened and grabbed a copy of the game. I raced home, saving a mere 15 minutes to check the game out before I had to head off to work. I opened the case and plopped in disc one.
The phrase blew my mind is an overused, horrid cliché. But there is no better way to describe what happened next. An old-timey film projector sound effect began along with the opening chords to The Cardigans' hit My Favourite Game. The Polyphony Digital logo popped up on screen, illuminated under a faint spotlight. Then all hell broke lose into a sensory overload. If this intro didn't get you hyped in 1999, then you were dead inside.
I was down to 11 minutes before I had to leave for my shift. As would become tradition with every Gran Turismo game that followed, I began checking out every dealership to see what cars were included in the game. I think I made it to MINI alphabetically before I had to leave. How I didn't slice off my thumb that day at work while in a GT2 daydream is any wonder. But I made it through the day, went home and quickly descended into a Gran Turismo seclusion for the next 3-4 months.
All Your Cars are Belong to Us
Gran Turismo 2 was groundbreaking in many ways. Stuffed on the CD-ROM were 650 cars – an absolutely absurd number of vehicles compared to any game that came before it. There were 24 Subaru Imprezas alone, covering just a 5-year span.
But besides the Japanese redundancies, Gran Turismo had greatly expanded the scope of cars in the game. There were now Italian, German, and French marques. The Japanese and British contingent had expanded greatly. Ford, Plymouth, Shelby and a swarm of classic Muscle Cars were now included. Many players were introduced to boutique manufacturers like Venturi and Tommy kaira.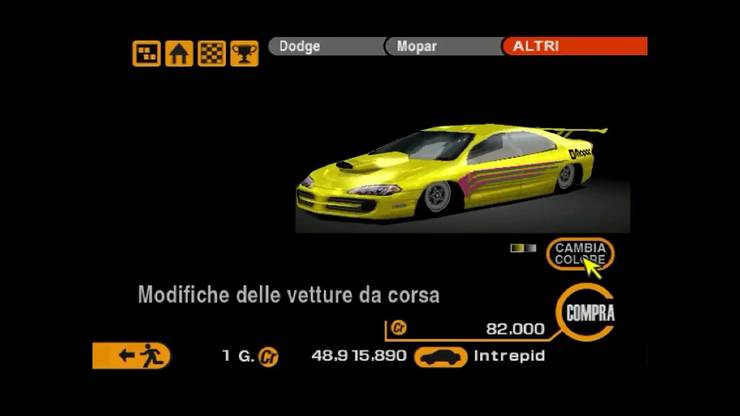 There were some curious inclusions in the game, like how BMW was predominantly represented by the slowest of 3 and 5 series models. And some of the racing conversions were downright hilarious, like the front-wheel drive Dodge Intrepid that was made to to look like an NHRA dragster complete with bulbous hood scoop.
I can't remember what my first car was in the game as it was inconsequential. I only used it to grind enough credits to buy the Chevrolet Camaro SS '97 – I car I had lusted after. From here, I continued to buy more and more virtual hardware. After I completed the game, I spent months grinding out credits to try and buy the vast majority of cars in the game. I think I made it to about 450 cars spread over various memory cards in the end.
Gran Turismo 2 was more than just a game; it was also an education. I began my unhealthy love affair with the Nissan Stagea Autech Ver. 260RS. I was flabbergasted that the Alfa Romeo 155 Touring Car had a redline of 15,000 rpm. My interest was piqued in cars like the Renault Espace F1, TVR Speed 12 and RUF CTR Yellow Bird. Not only were they tricky fun to operate, but I had to learn more about how these monsters came to be.
But there was undoubtedly one star of the game – the Suzuki Escudo Pikes Peak Version. This 981-hp monster would dominate any race it was entered in thanks to a massive power-to-weight ratio, all-wheel drive and a relative ease to drive. Although many knew of the Pike's Peak International Hill Climb special Escudo prior to its release, it was Gran Turismo 2 that catapulted it into mainstream.
Music Tracks and, uh, Tracks
The game was more than just a ton of cars though. It pushed the limits on what could be crammed onto a singular CD-ROM. The game ended up so massive, the career mode and arcade mode had to be separated onto two separate discs.
Numerous new tracks were included in the game. Remember the Seattle circuit with the train track bump mid-course? How about Tahiti Road, Motor Sports Land or Smokey Mountain? Gran Turismo 2 also marked the first-time real tracks were included in game with the addition of Laguna Seca and the Pike's Peak Hill Climb.
And then there was the music. Gran Turismo 2 had one of the best soundtracks ever licensed for a video game. Beginning with the previously mentioned Cardigans opening video, the hits kept coming from Beck, Foo Fighters, Stone Temple Pilots, Moby, Filter, Garbage, The Crystal Method, The Dandy Warhols, Fear Factory featuring Gary Numan, Rob Zombie, Soul Coughing, Creed and Hole.
Sequels rarely live up the original, but with Gran Turismo 2, it exceeded its forebearer. This may be the game I've wasted the most hours of my life playing, with only GT4 and GT5 challenging for that title. But we'll get into those titles at a later date.
Growing Up Gran Turismo – Part One
Growing Up Gran Turismo – Part Three
Thanks for visiting AutoLobotomy.com